Donation platform Podkrepi.bg
0% fee,
open-source,
500k raised with no investment 
100% made from volunteers with love. 
Client: Podkrepi.bg, online only

Date: Nov. 2020 –

My Role: Design Lead, User Research, Design Team management, Branding

The team: Managing and organising upto 8 designers, collaborating with Front End specialists, Project Managers, CEO, Technical lead,
Marketing, QA and Financial and Legal team

Deliverables: User Flows, User Interviews to support User Stories, Information Architecture, Info Website Design, UX
Roadmap, Customer Journey Map, 5 year Service Blueprint, Infographics

Challenges: To organise and motivate a team of volunteers, deliver a high quality product, understand the users and the
"market" and give the best possible solution with the minimum possible fees – all managed online.

Results:
Building Strong Branding

Emphasis on user centred approach within the organisation

Raised awareness to not so obvious stakeholders in the project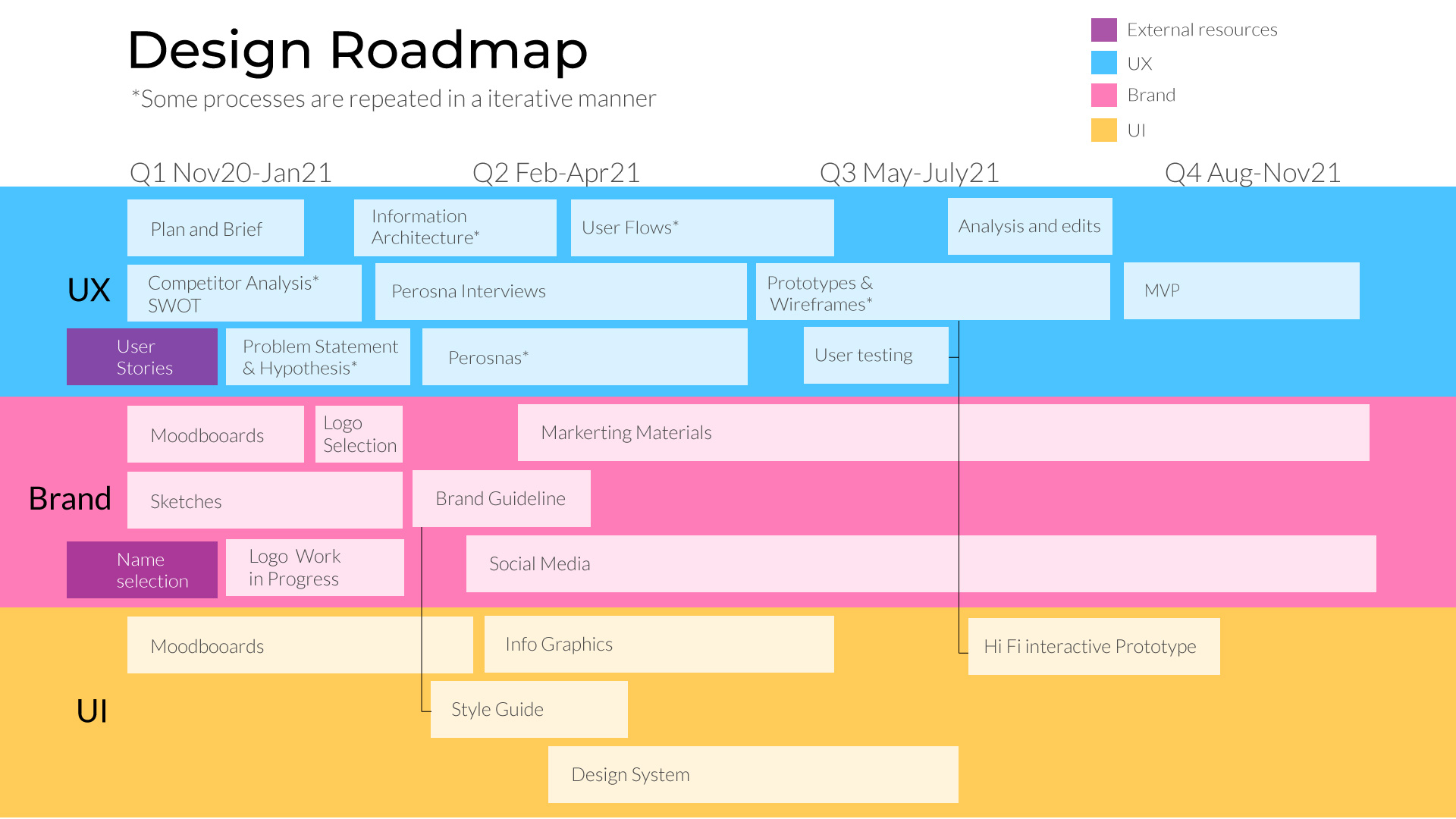 How everything started.
Below you can see my initial planning
UX
1. Plan and Brief
2. Research
2.1. Competitor Analysis SWOT
2.2. Persona Interviews
2.3. Problem Statement & Hypothesis
3. Design
3.1. Information Architecture
3.2 . User Flows
3.3. Low Fi Prototypes and
Wireframes
4. Usability testing
5. Iterations and refinement
Brand
1. Moodboards
2. Sketches
3. Logo work in progress
4. Vote and selection
5. Brand Guideline
6. Social media images
7. Marketing Materials
UI
1. Moodboards
2. Design System – UI kit
3. Hi Fi prototypes
Requirements and Plan

Background:
Podkrepi.bg is a Non-Governmental Organisation founded by 700 professionals with the idea of a 0% fee and
transparent online donation platform with open source.
Plan:
I started by crafting the Design Team Roadmap split into 3 areas: Branding, UX, UI. We agreed on the map – Its current
form can be seen here
Actions:
We adapt a plan with over 300 Agile's User Stories. I put forward a strategy how to enhance the user stories, by doing a
series of user interviews with our defined Personas.
Results:
Building one of the best teams in the project
Emphasizing on user centred approach within the organisation
Problem Statement & Hypothesis – which helped us to keep measurement of the success
Competitor Analysis – to compare available solutions on the platform landscape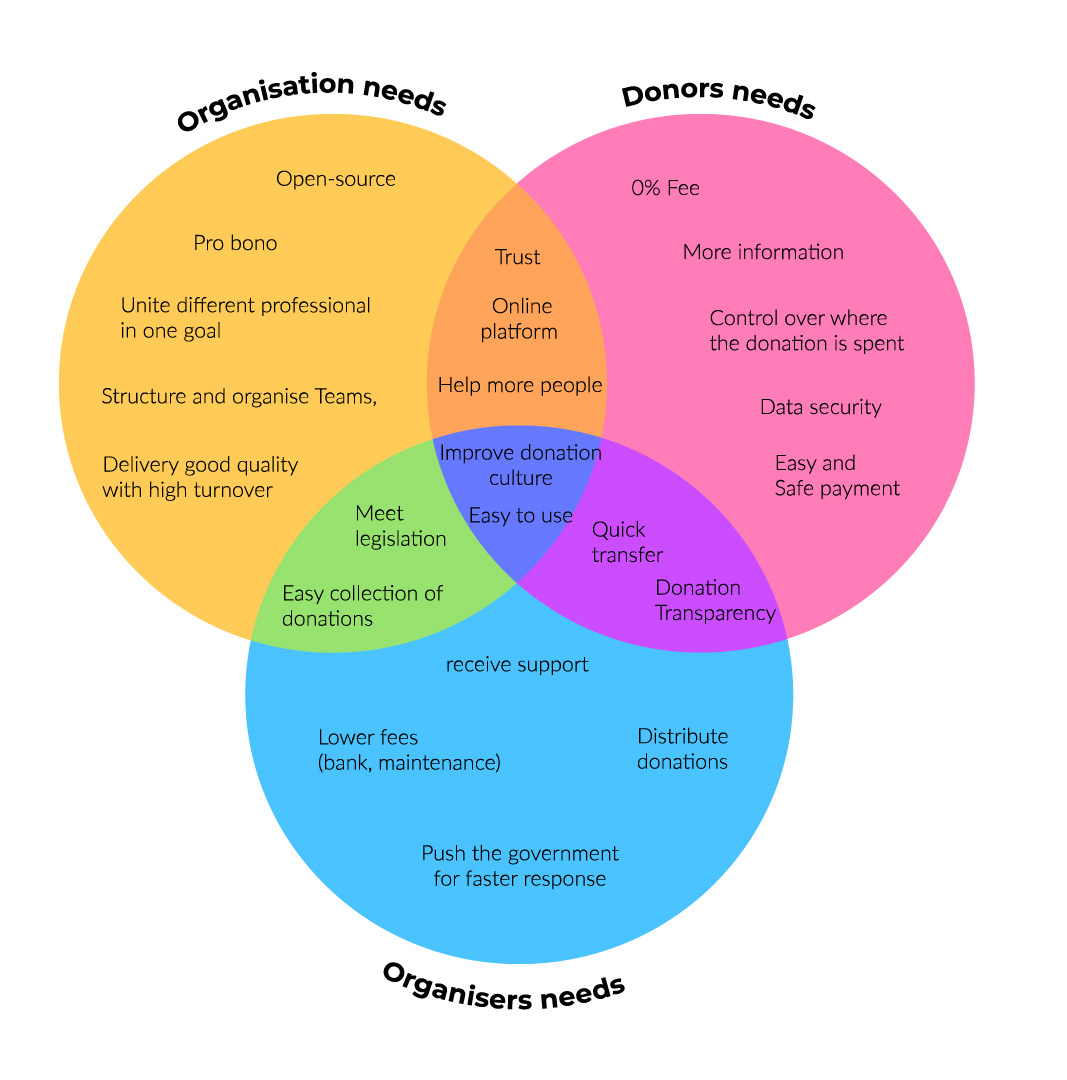 Understanding the User
User Interviews
We conducted interviews with our 3 main types of personae: 
Donors

Organisers 

Coordinators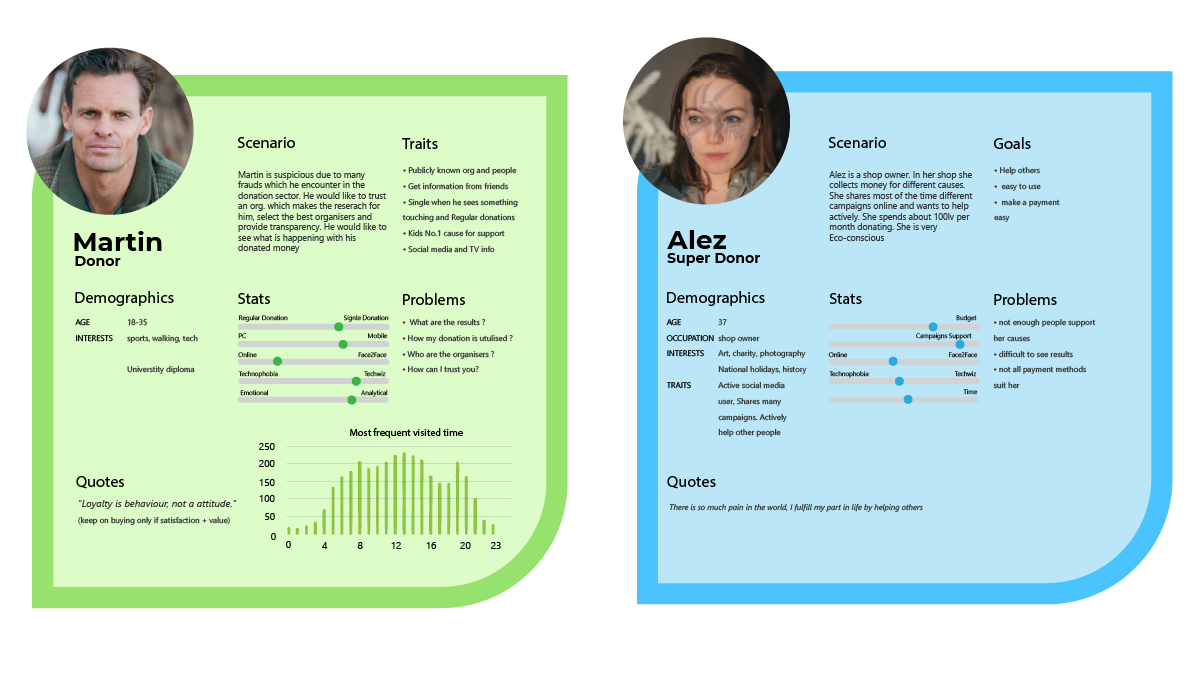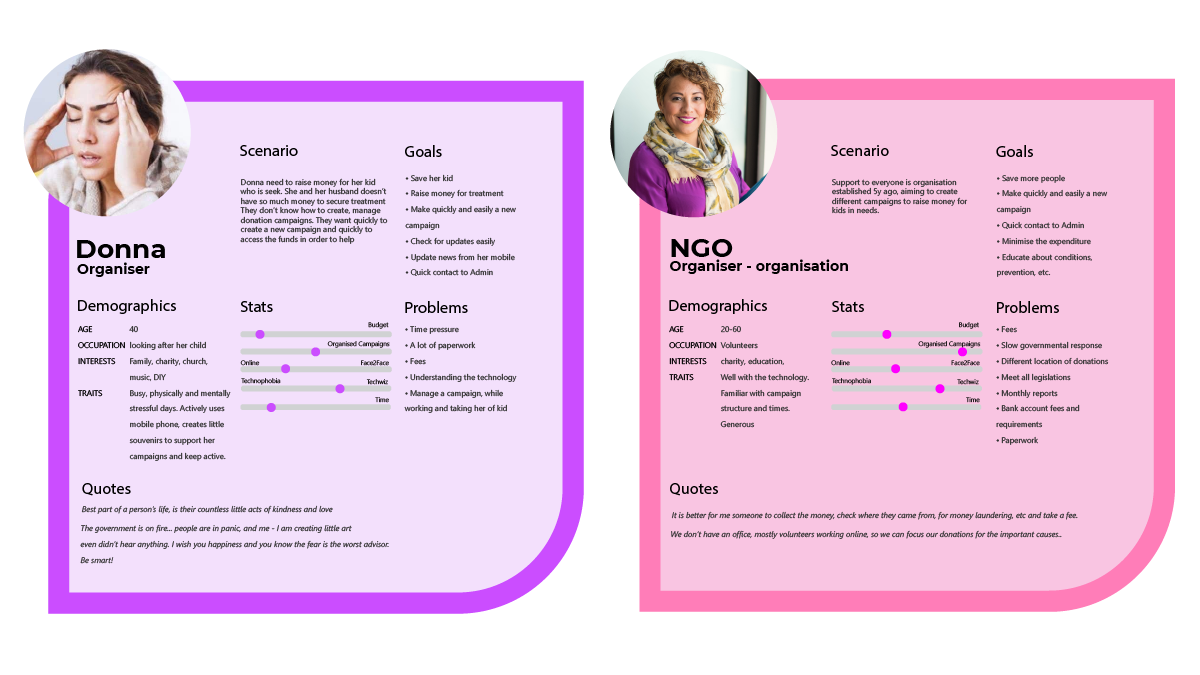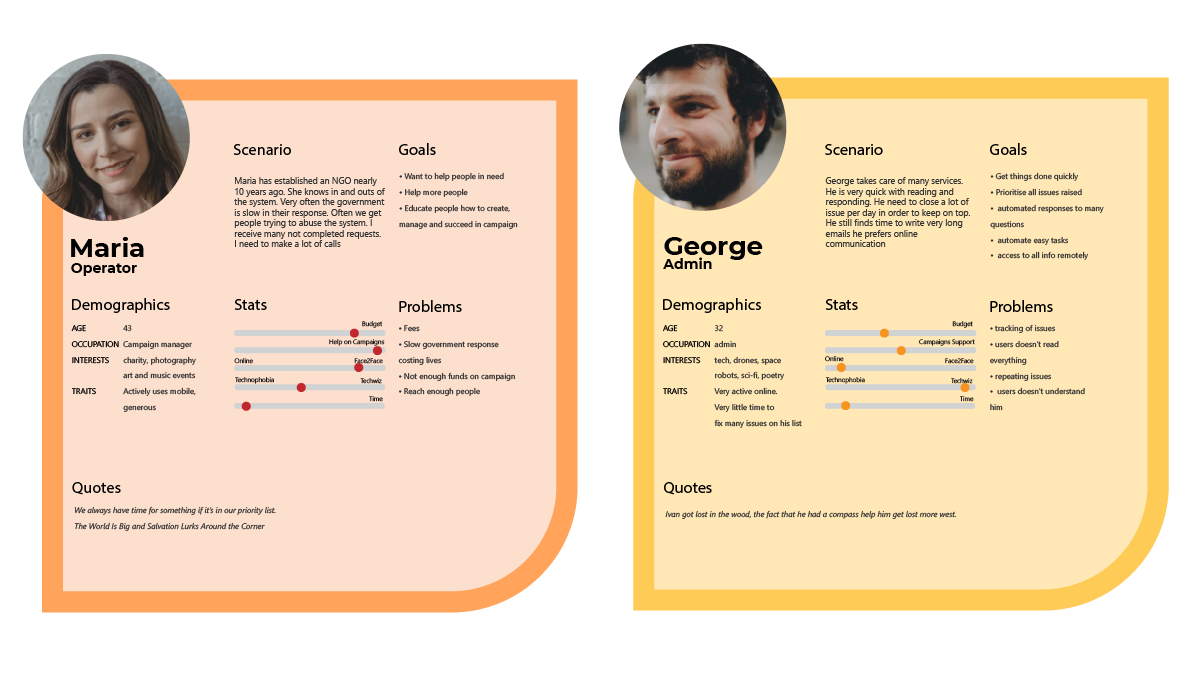 Persona Profile and Interviews
I conducted the initial 8 interviews with Organisers and Donors. The rest were deviated and conducted with my supervision from outer UX designers. Findings from the interviews were combined with heatmap analysis, academic paper research. We reached to our "competitors" and initiated monthly sessions. In our research we found that Super donator and donator are quite similar. 
Also it wasn't always easy to focus  – We found many different problems with organisers:
difficulties in the distribution of the donation collection of large amount of money online

money laundering laws

campaigns are so different that are difficult to automate,

late government responses for treatment

not enough information in post-natal care and so on.

I took me a while to find a way to focus and define the problems. It is good that we have experienced Product Managers who supported us in the problem definition phase.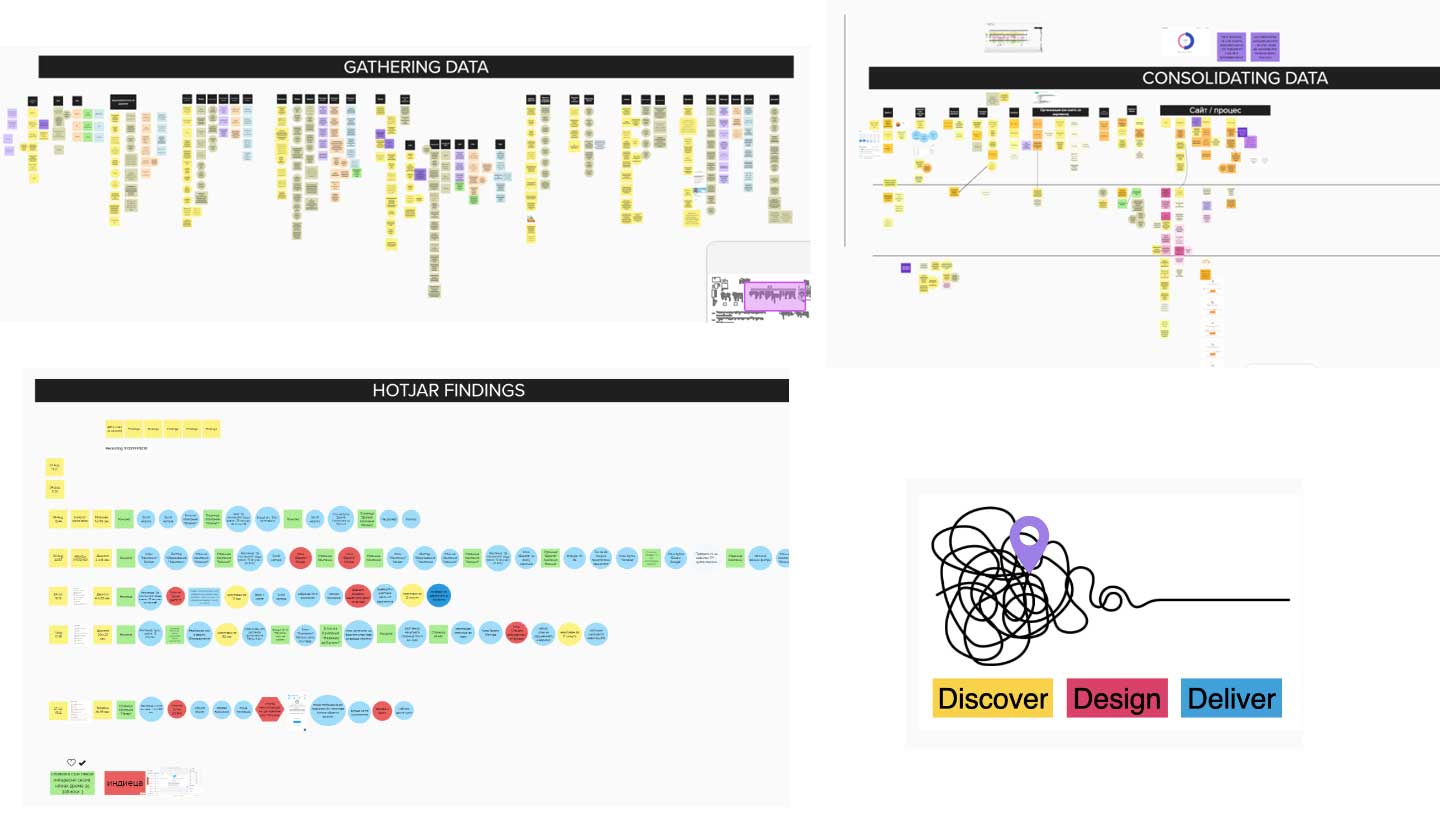 Information Architecture (IA) and Flows
I created an IA of the whole website which helped us to see the bigger picture and to not forget important points in the
User Flows.
Results:
Analysing the results of the interviews and defining the most important feasible problems which can be resolved by




us

My information architecture – inspired further project organisation by creating mini teams (User registration,




Payments, Campaigns, Data analytics and others)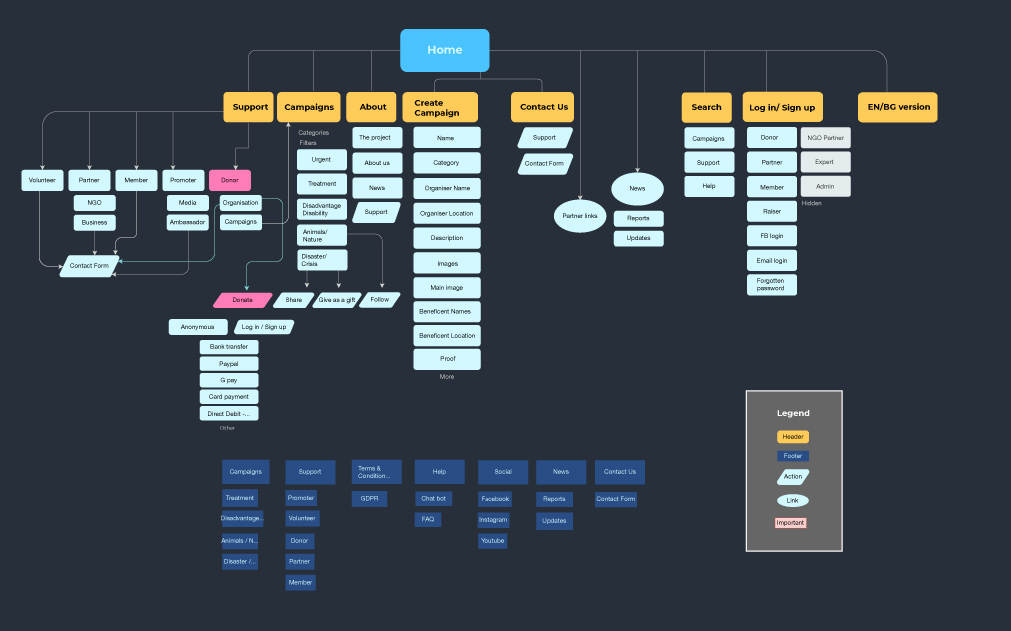 Branding
Our design team generated 12 good options. We selected the 5 potential options focusing on symbols which were
embedded in our organisation manifesto. We presented the 5 best to the community and asked for anonymous vote. The
top scorer was become our symbol.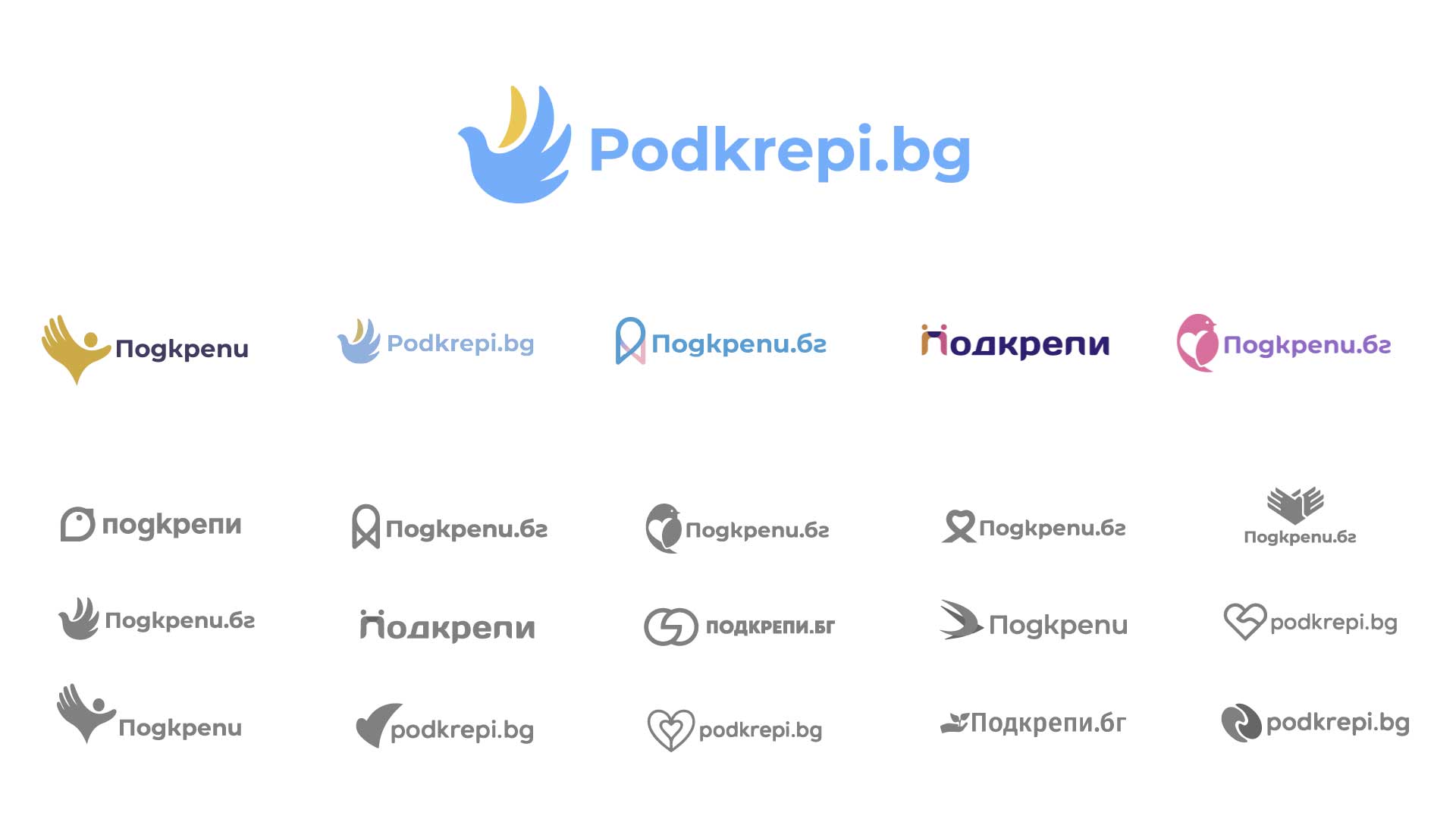 Information Website
We have done a few different iterations on the Information Website wireframes. I have suggested the final home page
version, building up on the vision of the brand, adding core mission, vision and aims.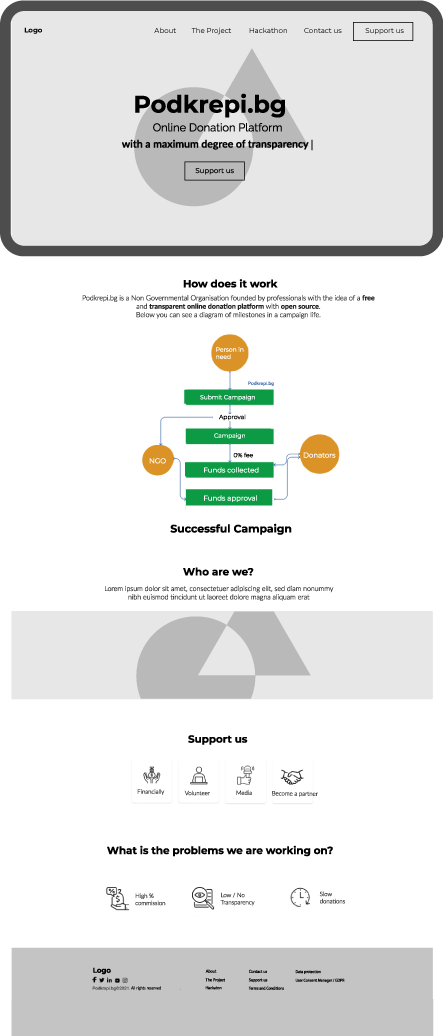 Below is comparison of wireframe from 2021 and one of the latest screens of campaign page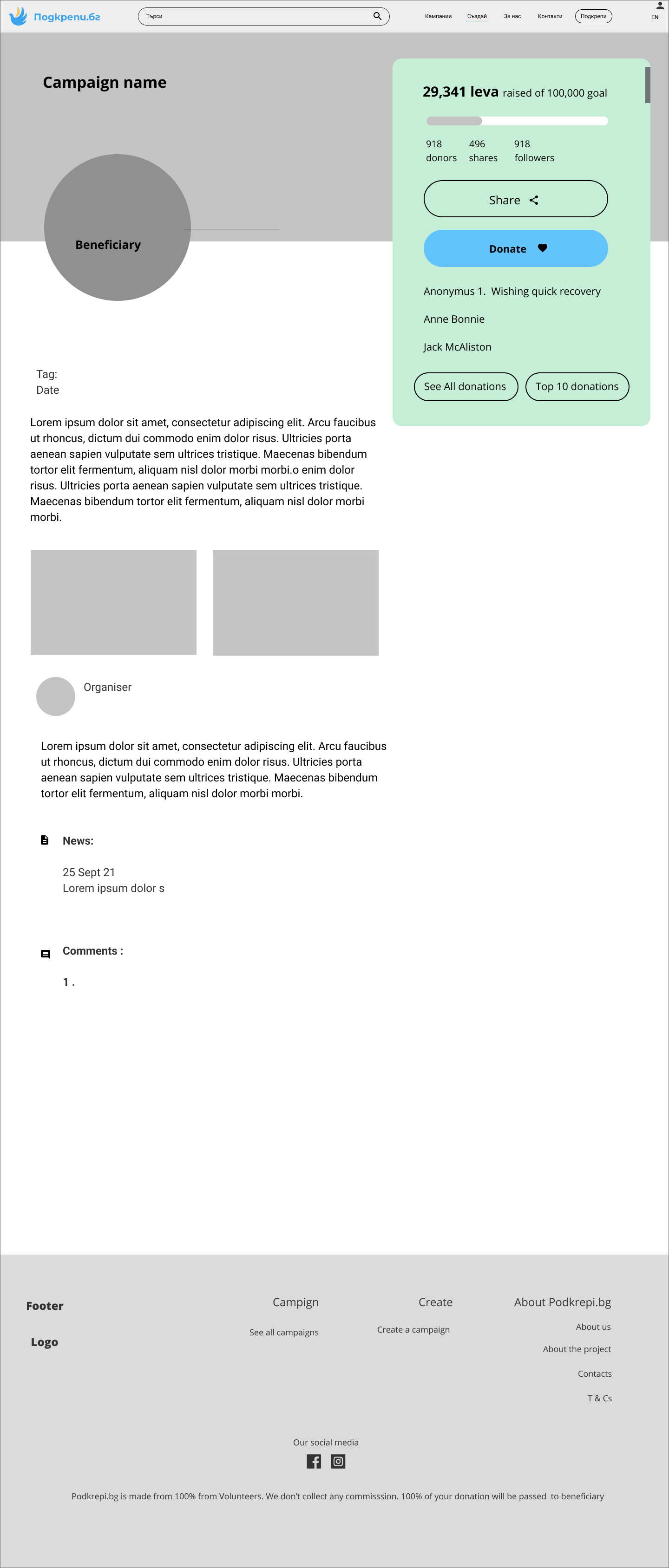 I worked on improving the information website flow which you can see below. This involved email marketing strategy
and how the interactions could play out. After some improvements we have now implemented the flow. This task is
ongoing; we now have a bank account which will change the donor platform flow.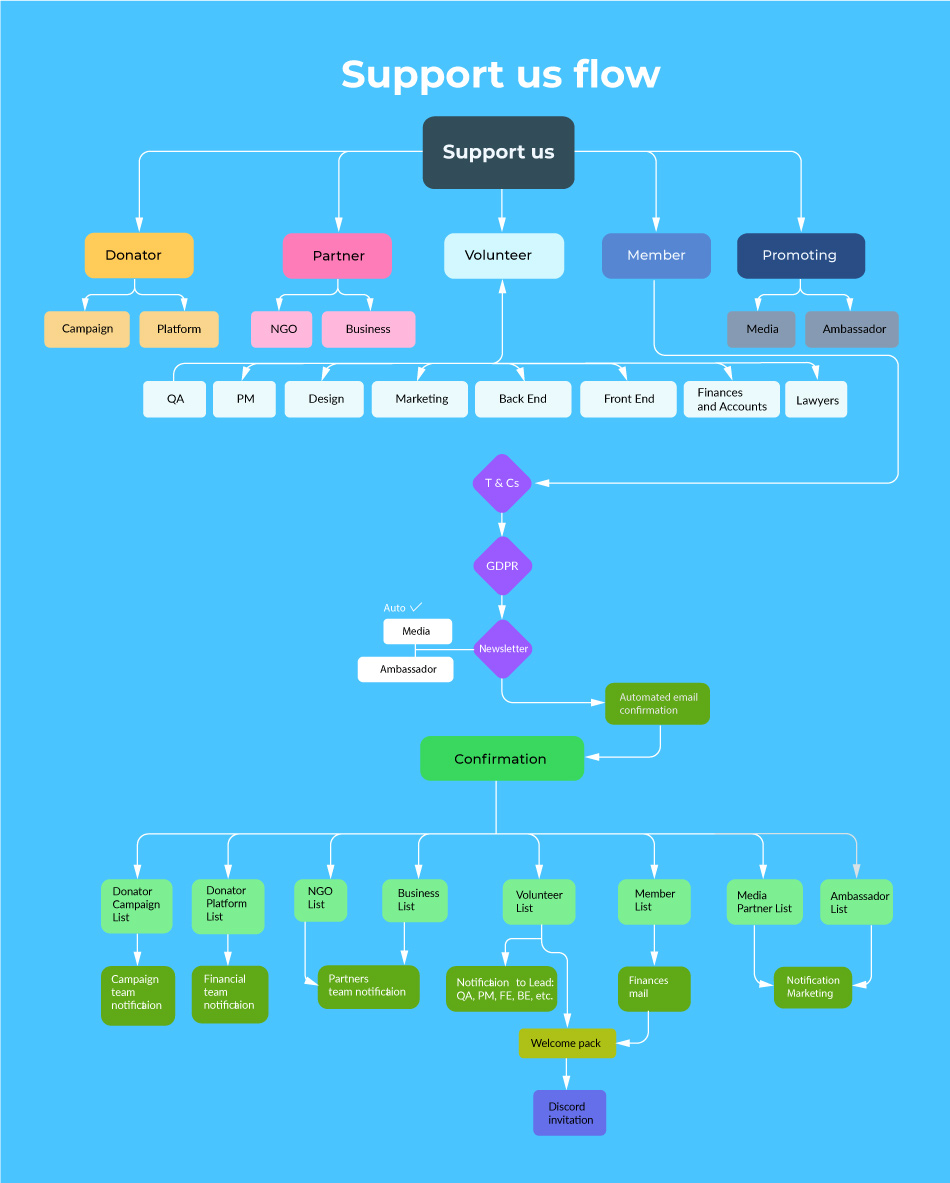 Impact on the project
One of the strongest organised teams – After the only 2nd week I realised how weekly meeting was pushing us all to
work more. We were the first team in the organisation to book up Thursday 18 00
Team structure and onboarding – easy to use on-boarding procedure for ever changing volunteer team
Advocate of user research and not so famous user Persona – I provided user research presentation to the CEO to which
help us to understand my point of view.
I scheduled to do User research directed towards the operator persona
Branding/logo selection – Our teem agreed on a fair community way decision about the logo. We had selected 5 best,
innovative logos and let the community chose the best logo
What did I learn and what would I do differently next time?
1. Never too early for research – In the beginning after stakeholders/platform owners I wasn't sure which direction we
should take and what is the main aim of the platform. I saw how many and big problems they try to battle. So I step back
and listened in order to focus on the right direction. I think I could have started this straight away.
2. Feedback is crucial – I have tested many decision with group knowledge – Once I have completed any piece of our
work I learned that sharing and receiving feedback improve the ?nal solution. Sometime it raises interesting questions
or other point of view. We don't work in a bubble community improvements.
Please see other projects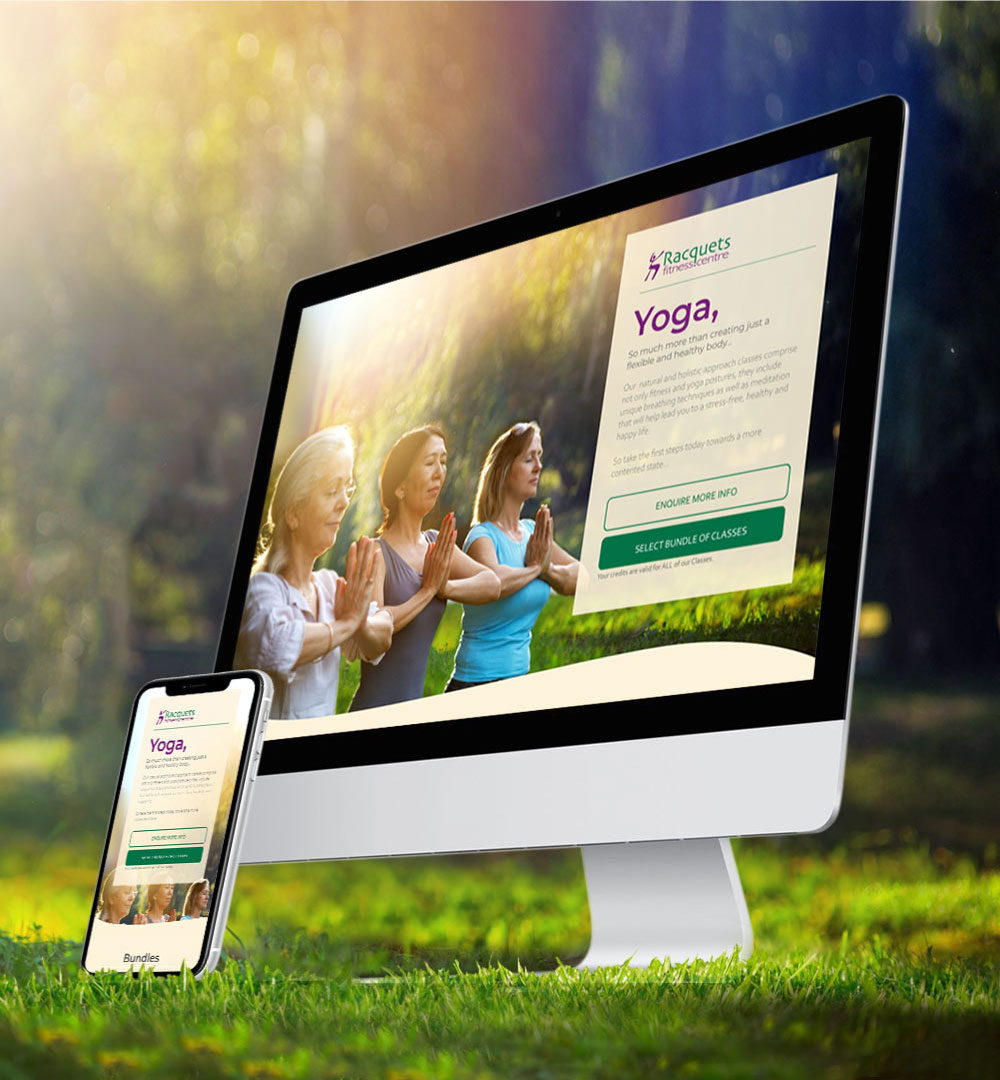 The power of micro targeting the right people with the
right type of promotion
Whatsapp Business Concept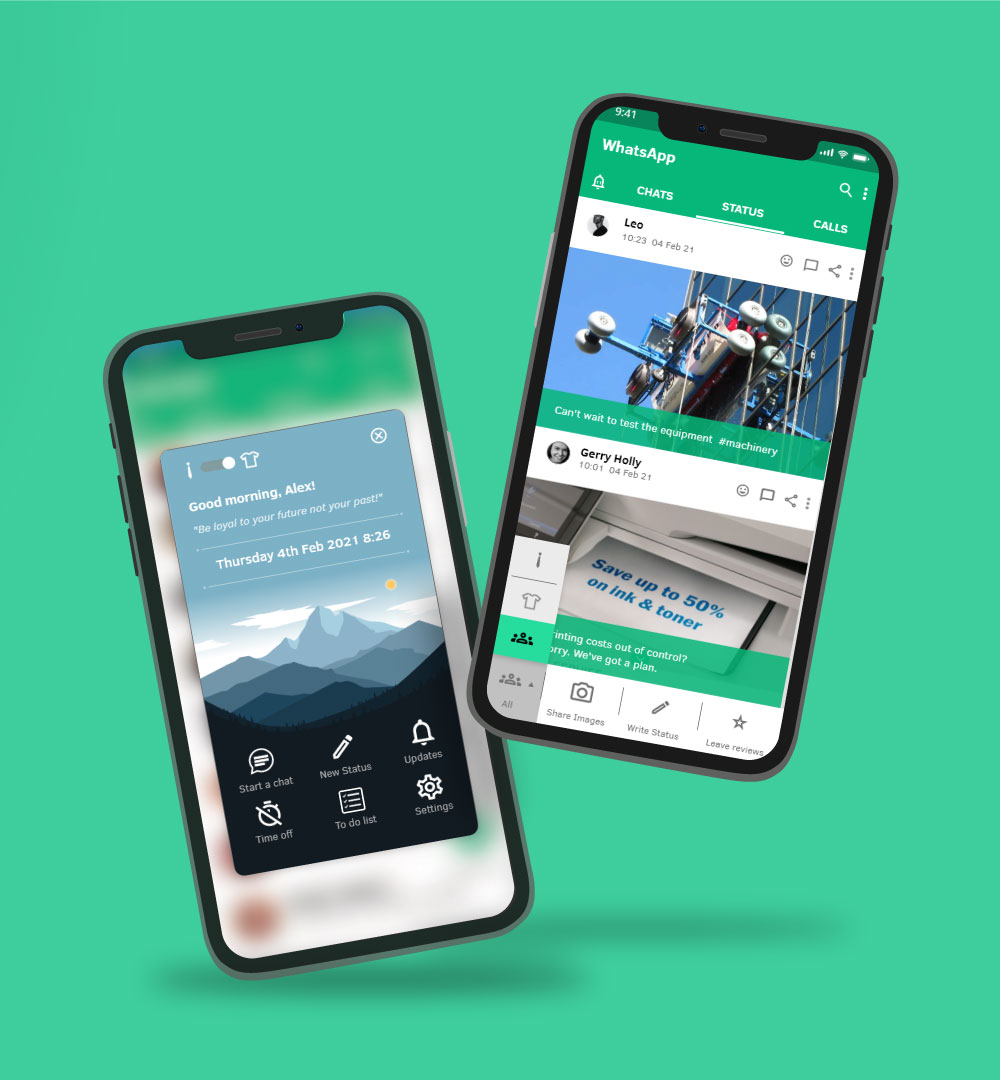 A research into the world of modern communication for
a specific target audience